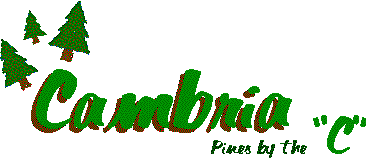 ---
---
Spring is the time to go to Cambria!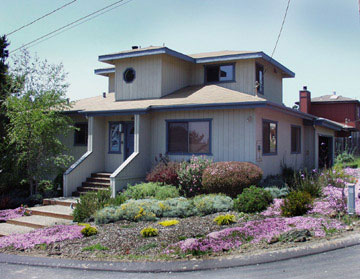 "Home Sweet Harvey Street"
For the past 18 years I have been associated with this lovely, three bedroom home situated one and a half blocks from the Pacific Ocean. Here I have spent many a wonderful weekend enjoying the small town charm of Cambria, California. Recently, I turned management of the property over to a company called "Coastal Escapes" which handles all inquiries about visiting Cambria and staying at the beach house on the corner of Harvey and Marlborough.
If you are interested in renting this wonderful beach home for a little getaway, please contact these nice folks a call at (805) 927-3182 to ask about the pricing and availability of the house on the corner of Harvey Street. If there is no availability or you prefer different accommodations I have included alternatives in the information provided below.
But first.....
---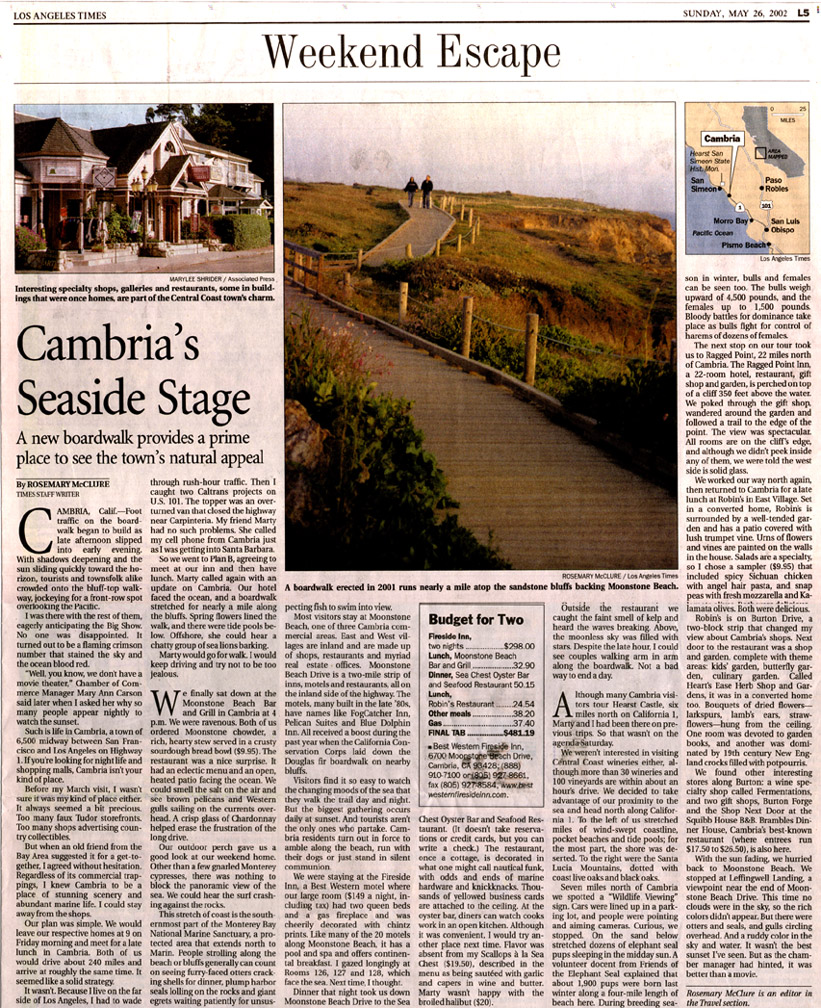 ---

How About A Walk In The Woods?
There is a really wonderful, "secret" place in the town of San Simeon that is perfect for just such a walk. It is just up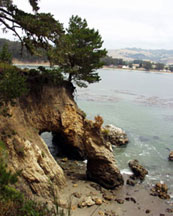 Highway 1 from Cambria, commencing at the north point of a lovely beach by the pier across from the entrance to The Hearst Castle. You will see the pier from Route 1 and when you get to the turn off for Hearst Castle you will turn left instead of right and follow the road around until you find a parking lot. Park the car and head north of the peir towards the beach. Walk north across the beach up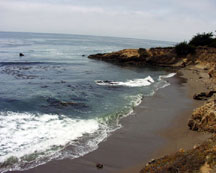 the facing hillside to last of the old Hearst storage buildings on the hill beside the beach. You will see a fence with a bunch of signs that say "Property of Hearst Company", etc. Ignore them. It will be clear to you by then that everyone else does. At this point there will be many areas where you can limbo under the barbed wire fence and there are trails that will take you through a beautifully wooded area. You can go out to the point and see playful otters cavorting below and spectacular views all around. If you continue further north there are little alcove beaches with pretty jade chunks in the rock piles and secluded tide pools to marvel at. The hike along the main trail to the point is nice and fairly easy, but once you get further north and out of the woods, the trail is silty and sandy making the trek more daunting for those easily disuaded. Give this great , "secret" hike a try. You'll be glad you did!
---
HOTELS:
The Blue Bird Motel (Call 805 Directory Assistance for Phone #)
Located right in the center of town on main street, this is the oldest motel in Cambria, but has been well kept up and has several new units with fireplaces in the back by the creek. Clean and comfortable. Walking distance to everything. Not an ocean view property.
Cambria Landing (805) 927-1619
Located on Moonstone Drive along Moonstone Beach. A nice long walking beach. Great location off the main drag but still close to everything. Gary Payne recommends this place.
The Blue Dolphin Inn (805) 927-3300
Again, along Moonstone Drive right there on the coast. Ocean views and sea breezes. Listen to the sounds of the surf and the sea lions while you sleep.
Otter Cove (Call 805 Directory Assistance for Phone #)
Named for obvious reasons, this motel also sits with the other line of motels on Moonstone Drive and is located right at the beginning of a miles long, natural Sea Otter reserve. If you watch the waves you may see a little friend waving to you from the foam, or is he cracking a shell on his stomach. Use your imagination, okay?
Cambria Pines Lodge (Call 800 445-6868 for details)
A large, rustic lodge, originally opened in the 1920s and rebuilt in the early 1990s due to a devastating fire. The lodge is situated on a hillside over town on acres of land in a nice forest setting,. This is the largest hotel in town. I've heard it's good, but may be a bit pricey. The restaurant at this hotel is great for breakfast and has outside seating, too. I recommend it for a relaxed morning meal.
Motel 6 (Call 805 Directory Assistance for Phone #)
Located just off of Route 1 in San Simeon this used to be a Holiday Inn so it's larger and more well appointed than other Motel 6 locations. If budget is a problem, you might check this one out. See the Motel 6 directory for details.
Misc.
On Moonstone Drive, also check out Shelter Cove (?), San Simeon Pines, (this one has a nine hole golf course, but it doesn't look very promising) and The Fireside Inn for accommodations.
---
RESTAURANTS:
Robins (*****)
This is, by far, the best restaurant in town, if not on the planet! There just isn't enough hyperbole to describe Robin's. An ethnic restaurant serving a delightful and extremely healthy mix of Indian, Thai, Mexican, and American fare in an atmosphere that is at once relaxed, friendly and homey. Try the Indian Lamb Curry or the Tandori Salmon. Don't miss the Salmon Bisque or a fresh, crisp salad from Robin's organic garden. And don't leave without trying one of their superb desserts, (fights have broken out at our table over the sharing of these)! The food, service and atmosphere are unsurpassed in the central coast area. Open daily for Lunch or dinner. Dinner for two $55.00. See article above.
Linn's Main Bin (****)
The Lynn family has come a long way since they opened their little berry farm in 1977, five miles out on Santa Rosa Creek Road. Soon, out of their modest kitchen, they were peddling the best Ollaliberry Pies on the planet to hungry visitors as they passed by the farm. Word spread and their business grew and grew. In 1989, with a thriving farm, pie, jam and mail order business, the Lynns opened a terrific restaurant and gift shop right on Main Street. Here they serve sumptuous, home cooked breakfasts, lunches and dinners as well as their pies and dozens of other mouth watering desserts. Enjoy some cappiccino or a Latte. Bury yourself in one of Lynns incredible pot pies. Bring a whole frozen pie or some Ollaliberry preserves back to someone you love, (they wrap frozen purchases for the trip). Don't leave Cambria without visiting Linn's farm or restaurant, a central coast landmark for over 20 years! Lunch for two is about $24.00.
The Sow's Ear (***)
While strolling down Main Street you pass The Upper Crust Bakery, Soto's Market and the Cambria Pharmacy. You decide to stop into an authentic old saloon called Comozzi's for a short beer and a long game of Snooker. Hunger soon strikes so you jog next door to The Sow's Ear Cafe. And, though not exactly a romantic name for a restaurant, you can have a well prepared, candlelight supper in this comfortable little place while warming up from the chill of the evening ocean air as you sit by their inviting two-sided fireplace.
Main Street Grill (***)
Best described as a huge outdoor B.B.Q. grill at the end of Main Street. Burgers, fries and regular Drive-in fare is supplemented by wonderful "Santa Maria Style" B.B.Q. Tender Tri-Tip and Succulent Chicken, all slow-cooked over an open fire, an aroma that you can savor for blocks.
The Harmony Pasta Factory (****)
A few miles south of Cambria on Coastal Route 1 lies the bustling metropolis of Harmony, (Pop. 18) . Here, once nestled in a small ram-shackled looking structure there stood a surprisingly good Italian restaurant and bar (the latter of which sported stools made out of old tractor seats). Now, however, The Harmony Pasta Factory resides right in heart of Cambria, just above main street in a little shopping area on a hill adjacent to the Cookie Crock supermarket. Here, The Harmony Pasta Factory continues to serve excellent Pasta dishes nightly in a friendly atmosphere and at a pretty reasonable price by L. A. standards. Fine local wines and a full bar are featured and, though much of the charm of the original location is lost in this new, bigger facility, the food and service are still very good. Maaaaaangia!
The Sea Chest (***)
Nautical but nice, on Moonstone Beach Drive with all the motels, this family run "Sea Shanty" kind of place sports a terrific Raw Bar as well as superbly prepared seafood. Many locals congregate here at the Oyster Bar, (what they do later is their business). But, be warned, they take no credit cards or checks at "The Sea Chest". It's strictly cash and they take no reservations either so line up at 5:30 pm to get a table and watch the sunset over the Pacific as you enjoy a wonderful meal, seaside!
---
GENERAL INFORMATION:
Golfing:
No information available at this time. Please check with the clerk at your motel for directions to the nearest course, (Probably in Cayucos or Morro Bay located just a few miles south of Cambria on Route 1).
Groceries:
Sotos Market on Main Street offers food and necessities at slightly marked up, small town prices. The Cookie Crock Market, located on a hillside towards the center of town is a larger, full-service market that should carry almost anything you would require during your stay from fire wood to suntan lotion.
Video Rentals:
Should the peace and tranquility of this small, quiet coastal town begin to wear on your big city nerves and you crave more entertainment than nature has to offer, video comes to the rescue with several well supplied rental shops in town. Luis at The Video Kid is the best. All the most recent films are available from him as well as VCR rentals and video games, too. If Luis doesn't have what you want, he can direct you to one of the other rental places in town that I'm sure will be delighted to come to your aid.
Bikes:
Bicycles are available for rent at a small shop bethind Robins. Rent your equipment there and have a ball......on the road again.
---
For more information on Cambria, check out the Cambria Web Page by clicking on the Logo below: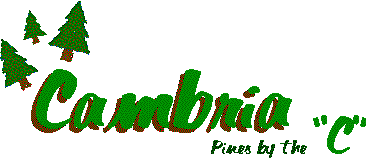 ---
The town of Cambria is located directly on Route 1 about 30 miles north of San Luis Obispo. If you are traveling north on Highway 1 you cannot miss the town. However, for actual door to door instructions, in both map and written form, I recommend that you use the internet and MapQuest. It's easy and if you have already manuvered yourself to this page you are computer literate enough to use MapQuest. Simply click on the link below and follow the directions for clear, detailed driving instructions from your front door to beautiful Cambria!

---
Back to the Diner...