Click on the photos, graphics and linking text below to be transported to links with more information and rare artwork!
Each Picture has a Story so Don't be Shy!
---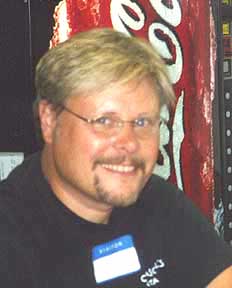 DAVID PRUIKSMA
A Biography
"The King of Cute" is what David Pruiksma was dubbed by his peers at CalArts. And, though other students before him held this title, the reign was Pruiksma's during his stint in the Character Animation Program from 1979 to 1981. Today, the title seems particularly appropriate in that over the past 20 years Pruiksma has been cast on some of the cuter characters to come out of the Disney menagerie.
Pruiksma had the usual interest in animation from an early age. Growing up in the Virginia suburbs, just minutes from the heart of Washington D. C., he was first influenced by early television cartoons, but remembers being really "blown away" by the 1964 television broadcast of Disney's "Alice in Wonderland". It was then that Pruiksma decided what his life's vocation would be.
Pruiksma drew constantly through school eventually making his own series of Super-8 films. Upon graduating from High School in 1975 he was accepted into the prestigious Pratt Institute in Brooklyn N.Y. where he received a very solid formal Art and Film training for two years. He was one of a handful of students selected to work on a theatrical film project, (based on a Berholt Brecht play) that was being done at the school by veteran puppet animator Lou Bunin. Still, Dave felt that he wasn't getting the training he needed to become a professional animator. His instructors recognized his ability and suggested a move to Los Angeles, where the animation industry was based. He applied to California Institute of the Arts and was accepted into their Character Animation program starting in the Fall of 1979.
At Cal-Arts, Pruiksma applied the foundation he had learned at Pratt to Disney style character animation under the instruction of renowned Disney artists T. Hee, Jack Hannah, Elmer Plummer and Ken O'Connor. From 1979 to 1981 he produced two short animated films, learning everything about animated film production from design to sound mixing. He even performed voices for other student's films.

To see the complete film produced by Pruiksma at Cal-Arts in 1981 click on stills above.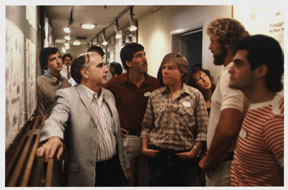 Hired at Walt Disney Feature Animation in the summer of 1981 as an inbetweener on "Mickey's Christmas Carol" after only two years at CalArts, David worked with top animator Ed Gombert bringing Ratty and Moley, (from "The Wind in the Willows") back to the screen after their 35-year retirement. He later went on to do assistant work and small snippets of animation on the character of Gurgi for "The Black Cauldron". After this, Pruiksma joined directing animator Mark Henn in bringing the lovable, rotund Dr. Dawson character to life for "The Great Mouse Detective".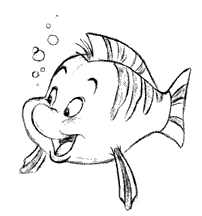 After a brief stint working on the feature-length production, "The Chipmunk Adventure", (again focusing on the more appealing Chipmunk characters) Pruiksma returned to Disney Feature Animation to work on Jenny, Oliver and Winston the butler, (among others) in Disney's successful 1988 release, "Oliver and Company". Following that assignment, directors John Musker and Ron Clements approached him to co-animate Flounder (with animator Barry Temple) on "The Little Mermaid". Dave animated that character throughout the film including the "Part Of Your World" sequence. He also designed and animated the little seahorse messenger who introduces the characters at the concert during the film's opening undersea sequence.

On the strength of his work on "Mermaid", Pruiksma was cast as supervising animator on a short subject for Epcot Center called "Cranium Command". This film was made between "Mermaid" and "The Rescuers Down Under" and was directed by the team of Gary Trousdale and Kirk Wise, (who went on to direct "Beauty and the Beast", "The Hunchback of Notre Dame" and "Atlantis"). Pruiksma was cast to animate the diminutive, yet endearing, Buzzy, A "Cranium Command" recruit who triumphs over adversity.
Turning back to features, the animator brought believability and warmth to Bernard and Bianca in "The Rescuers Down Under", most notably the proposal sequence in the outback.
Pruiksma's first supervising animator role on a feature film was on "Beauty and the Beast" where he was called upon by the directors to oversee the pivotal role of a warm and cozy teapot named Mrs. Potts, (voiced by the inimitable Angela Lansbury). As the role of Mrs. Pott's precocious teacup son was expanded,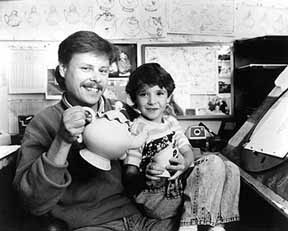 Pruiksma also took on the challenge of adding charm and appeal to Chip's porcelain personality.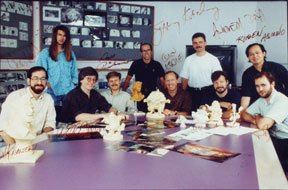 Following "Beauty", Pruiksma teamed up with the directing team of Musker and Clements on "Aladdin". Not surprisingly, he was quickly cast on the round and cuddly Sultan of Agrabah, (a delightful and warm role with a silly twist).
As production on "Aladdin" was winding down, simultaneous casting began on the next two films with "The Lion King" up first and "Pocahontas" following. Dave was immediately cast on "Pocahontas", seemingly by-passing an assignment on "The Lion King". But a year later, after developing the character of "Flit" the hummingbird for "Pocahontas", the artist was busy helping to finish up ruff animation of the character Pumbaa in "The Lion King", (most notably the luau sequence). After his brief stint on "The Lion King" it was back to work on "Pocahontas" full time. Now Pruiksma was dealing with full-blown production on Flit, an irascible character that Dave would almost single-handedly animate throughout the course of the film. This, in addition to handling the supervision of the various miscellaneous beavers, turtles, birds and animals that appear occasionally with Pocahontas.

In early 1996 Dave completed supervising animation on Victor and Hugo, two of the three fanciful gargoyles who appear as friends and supporters of Quasimodo in the ambitious animated feature, "The Hunchback of Notre Dame". And to this day, after being a teapot, a hummingbird, a seahorse, and numerous other subjects, both real and imagined, throughout his animation career, Dave is still very enthusiastic about his work on these broad comedic characters, carved in stone.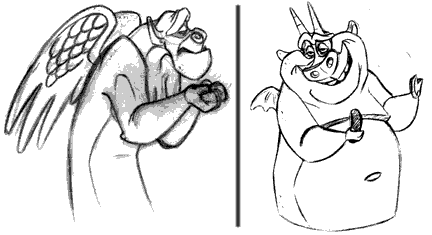 After "The Hunchback of Notre Dame", Pruiksma needed a break from the rigors of production and opted not to move onto a role on "Tarzan", which was, at that time, just ramping up and looking for Supervising Animators. Instead, he opted to develop and institute a training program for young, developing artists at the studio. For almost a year, Dave spent his time teaching skills learned from veteran Disney animators Frank Thomas, Ollie Johnston and Eric Larson, as well as what he picked up from his own years in the animation trenches. He worked with studio animation trainees and clean up artists on animation tests and exercises to help strengthen and hone their skills and understanding of Disney animation. In addition to his successful training program, Dave also consulted with Walt Disney Imagineering on the planning of the Animation pavillion for the Mr. Eisner's underbudgeted brain child "California Adventure" theme park in Anaheim, CA and on two of the three "Hercules" CD-Rom games produced by now defunct Disney Interactive. Before long, Pruiksma was very happy to be called upon to reprise his role of Mrs. Potts in a sequence of "Beauty and the Beast" that was storyboarded during the production of the original movie but not animated until the summer of 1998. The sequence was called "Human Again" was seen in the long awaited 10 year re-release of "Beauty & The Beast" in IMAX theaters and is still available on the deluxe DVD release of the picture!
Pruiksma found all these different kinds of work to be an enjoyable change of pace, however, by the end of the summer of 1997, he was anxious to get back into full feature animation again. As Dave put it, "Talking about animation is one thing, but sitting down and doing it is what it is all about!" So, that Fall, he moved onto "Kingdom of the Sun", cast in the roll of a silly, vain Llama character named "Snowball" who gets into all kinds of trouble. Unfortunately, after several successful test scenes and character design work on a number of the characters in the film, story problems clearly needed to be addressed and the film was put on hold. While this was happening, Pruiksma decided to join forces with his old friends Don Hahn, Kirk Wise and Gary Trousdale on their developing feature "Atlantis". While on "Atlantis", the characters that Dave had developed for "Kingdom of the Sun" were dropped as the new plot unfolded and animation started up again on an entirely different film now called "Kingdom IN the Sun", (finally being titled "The Emperor's New Groove", go figure!).

Instead of returning to "Groove", Dave chose to stay on "Atlantis" and animate two characters for Kirk and Gary. "Atlantis" was a radical departure, in both story

and appearance, from traditional Disney Features. The characters Pruiksma developed and supervised for the piece are Fenton Harcourt, (voiced by David Ogden Stires) and Ms. Wilhelmena Packard, (voiced by Florence Stanley). These human characters and highly stylized designs, (based on Mike Mignola drawings) were a new challenge for Dave. And, if the stylistic challenges were not enough, both characters also moved and acted drastically different, one from the other. Of course, part of the fun of character animation is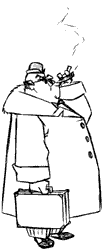 derived from getting into these characters heads and seeing what makes them unique and interesting and then bringing that subtlety of persona to the animation. But then, Pruiksma feels that diversity is part of the excitement and challenge of Walt Disney Feature Animation and he is happy and proud to be a contributor to this most lively of arts.
Recently, Mr. Pruiksma made the difficult decision to leave Disney Feature Animation after nearly 20 years of work on all the Disney features from that period. Pruiksma sites the reasons as being the over involvement and control of inept management and a greedy and corrupt corporate structure. For more information, click HERE to see a personal letter Pruiksma wrote and sent to all of Feature Animation upon his departure.
The animator is now in "semi-retirement" but that has not slowed him down creatively. "On the contrary," says Pruiksma, "I feel more alive and creative than I have felt in several years! The depressed and stilted environment at Disney Feature Animation under it's current, highly questionable, leadership is no longer a place conducive to creativity, quality or, for that matter, fun!" Now Pruiksma spends his days in his home studio happily working on personal projects such as a book about his experience in Feature Animation as well as several children's book ideas and original animation projects. Occasionally an outside project will come up that will peak his interest and he will take on a freelance job such as his recent association and work with famous Southern California based designer Paul Frank of Paul Frank Industries, whose "Julius the Monkey" and other charming characters appear on a myriad of high fashion items around the world. Then there is exciting and groundbreaking animation work with acclaimed animator and long time friend Darrell Van Citters for his award-winning Renegade Animation studio. Here Pruiksma applied his skills to an assortment of different areas of production including providing animation on pilot spots designed by colleague Michael Giaimo for the studio's show reel as well as having served as writer, storyboard artist and director on 7 episodes of the first season of Cartoon Network's successful "HiHiPuffyamiyumi" animated television series.
Moving on from that, Dave has contributed full character animation to on a number of projects produced by Eric Goldberg, including his upcoming animated short "Tree Theater", an 8 minute long, wide screen animated spectacular for an amusement park show and ride now playing in a facility in the orient. The film has been "sneak previewed" here in the states on a number of occasions to very enthusiatic crowds.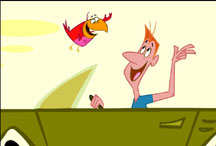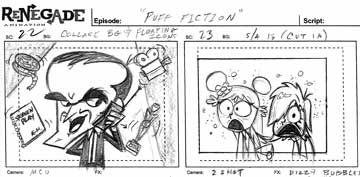 And, get ready for a new character with a BIG history behind him. Check out ChuckleButt at the CHUCKLEBUTT PRODUCTIONS TM site. Just click on the name to the left and off you go!
Pruiksma also continues writing articles and doing interviews regarding his thoughts on current trends in character animation and his views on the decline of The Disney Studios in general. "I am getting offers to write articles on acting and technique for both 2D and CG animation" says Pruiksma, "I have also been invited to lecture at several upcoming animation events and have even been asked to consult on a number of animated projects currently in the works." This teaching and consulting seems to agree with Mr. Pruiksma as he continues, with a twinkle in his eye, "I like the idea of keeping my hand in the animation pool, but just out of reach of the management sharks that currently infest those waters. I will continue to be open to doing lectures and workshops and consulting for those seriously interested in the craft of full, traditional character animation and I look forward to serving the animation community in that capacity."
The artist's other interests include photography, writing, working on his Mac computer, gardening, traveling, and collecting old toys and recordings. He currently resides in Southern California, but spends as much time as he can at his second home on the coast of Cambria, California.
All Disney Characters ©The Walt Disney Company
Page Updated 7/2006

---
---
Nice meeting you. Now click on the cup to go back to my Diner...